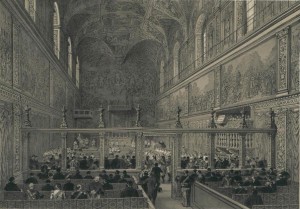 2016 will see the publication of the new book of our director, Graham O'Reilly, about the famous Miserere by Gregorio Allegri. Including two new editions, you will be finally be able to begin to understand what it sounded like when sung in the Sistine Chapel – in brief, what all the fuss was about!
The version normally heard today was never heard as it stands in the Chapel, but is rather the creation of a 19th century English musicologist, who was misled by the different strands of evidence. This new book, the fruit of 15 years of research, guides the reader through the little-known history of this mythical piece, and includes two new editions. And, yes, they both contain the famous high C's!
It's a fascinating story, full of unexpected events, of not only good but also bad faith,an  invasion and a scandal, but also exceptional generosity and above all, much virtuosity.
The new editions are based on to 19th century manuscripts, one from around 1825 and the other from 1892, written down by the last real director of the college of Papal Singers who performed in the Sistine Chapel. It's main function is to explain, in minute detail, how it should be sung, and its advice can be heard on the Ensemble's recording of 2000  on the Naive/Ambronay label, a recording now accorded almost mythic status.
And you can perform it with your own choir! Buying the book gives you the right to purchase, at very favourable rates, as many copies as you need of the editions published there.