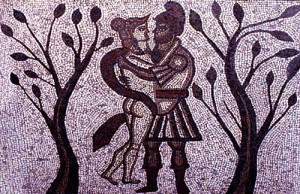 The Ensemble William Byrd will perform its own version of Henry Purcell's Dido and Aeneas next April, in a concert version with gesture.
Interpreting Dido is always more complicated than it appears. The only useful score dates from some 60 years after its composition, which was no doubt for the royal court of Charles II. It was subsequently adapted more than once, firstly – and famously –  for a girls' school, and then transformed into interludes to be heard between the acts of Shakespeare's Measure for Measure. Of the original libretto and score, nothing remains, and it is certain that some sections have disappeared.
Our new production takes into account the most recent research, and emphasizes the importance of the witches: their rôle as the deus ex machina of the plot reflects the obsession of 17th century England in general, and of the royal court in particular, with their actions and influence. We have also completed certain parts of the score for which the words survive without music, and added some dances where appropriate, all with Purcell' own music.
Our performances will be given by:
Brigitte Vinson (Dido)
Ryland Angel (Aeneas/ Sorceress)
Amelia Berridge (Belinda)
With the instrumentalists of the Ensemble William Byrd
and the Ensemble Vocal de Pontoise
Direction : Graham O'Reilly
Sunday , 6th April 2014 at 18h
in The Dôme, Place de l'Hôtel de Ville, 95500, Pontoise
Saturday 12 avril 2014 at 20h30
in the Temple du Foyer de l'Âme, 7 rue du Pasteur Wagner, 75011, Paris